Now that I've kept you in suspense long enough, here's the second installment of my solo Cebu trip.
As tired as I was the night before, I managed to get up at 5AM for my tour. I got dressed, put all my stuff in my trusty waterproof bag, had coffee, and waited outside for Jarel, who arrived a few minutes after 6. Our first stop would be Osmeña Peak, and since it was early morning and a bit chilly, I donned a jacket. Good move, considering what we were about to go through.
The motorcycle ride from the inn to the foot of the mountains took about two hours. It was cold, and the bag slung over my shoulder felt heavier the longer we rode. On the other hand, the view throughout the trip was spectacular, which brought my inner whining to a halt. Occasionally, he'd stop at spots where the view was unobstructed so I could take photos and videos.
During our ride, we actually managed to have a little conversation. He said his family is actually from Mindanao, and he moved to Cebu to become a tour guide and he hasn't left since. He then asked me if I was planning on seeing the whale sharks. I said "maybe," but inside I didn't really feel like it. I'd been hearing about how the whales are treated, and I didn't want to add to the whole thing.
Turns out, Jarel was against the whole whale watching and swimming practice, too. He said he was happy that it made the place popular and gave the locals jobs, but he didn't agree with how the whales' habitat and behavior were being manipulated by what the guides and tourists did over there, so he preferred not to take tourists there. Bless your heart, Jarel.
As we neared the mountains, the clouds started getting dark and the wind picked up. Oh, great. My first day and the weather was starting to go bad. It got colder, and the fog began rolling in. This is what I was afraid of, that the fog would conceal the view. Well, not much I can do about it, so we just kept going.
When we got there, he stowed his bike at a nearby store and we walked up the stairs to s sort of tourism office where we were supposed to sign up and pay a fee (by the way, all the entrance fees were included in the Php2,500). Then, we started the climb. It was easy at first, but as the relatively flat terrain rose higher, my breathing became shallower and gravity started to do its job.
I moved slower as we went up, but he didn't even break a sweat. I asked him about this, and he said he was used to it. Oh, and he plays basketball. Fuck this guy and his athleticism. We went on.
When we got to the top, the view was amazing. What we could see of it, anyway. The fog had descended on the mountaintops now, and I occasionally felt some raindrops, though Jarel said it was just moisture from the fog. I didn't mind either way; I was too busy snapping pictures as the fog shifted and gave way to views of the city, the ocean, and the nearby islands. Like I said, amazing.
Initially, I just wanted to take photos of the place, so I kept turning him down when he offered to take my picture. Eventually, I relented. Admittedly, the view was too good to pass up the chance.
The fog eventually did clear up, so I was able to appreciate the view a lot more.
It was about 9:15 when we got back to the office, where we took a breather before heading back to our bike and riding off to our next stop, Kawasan Falls.
Remember how cold it was earlier? Now it was getting warmer as we rode to the falls. I was happy about this; I've had many a summer trip dampened (literally) by rain. But here was the bad news: I forgot to put sunscreen on. Shit. At that point, I could already imagine what I'd look like at the end of the day, but this wasn't the time to toil on that.
At a little past 10, we got to Kawasan Falls. As we parked the bike, several tour guides started coming over and offering to take me to the falls. He waved them off by saying something in Cebuano, and they left me alone. He said he told them that I was his personal visitor. Cool trick, I thought as we walked to the entrance, where we signed and paid the entrance fee.
The trek to the falls, much like any of its nature, was lengthy and a bit tricky in parts. As long as you wear rubber shoes or hiking sandals, you'll be OK. Just keep walking and enjoy the view.
At the bottom of the falls, I was amazed. Not by the sight of the falls, but by how commercialized the area is. This is the stuff you don't see on Instagram photos: rows and rows of eateries, gear rental and souvenir shops, and tables and chairs for picnics. There were even accommodations for guests who want to sleep and wake up to the sights and sounds of the falls. I have to admit, I found all of this a little off-putting; all of the other waterfalls I've seen weren't this brazen about making money off a natural wonder, but I guess you do what you have to do.
Some of the most famous photos you might have seen of Kawasan are those of people using a bamboo raft to get close to the falls. During my trip, though, the raft rides had been suspended. According to Jarel, some of the tour guides had become abusive in charging guests; he told me of some instances wherein Japanese tourists were asked to fork over Php8,000 for a short ride, when Php500 for the entire raft would have sufficed. I mean, I understand you need to make money, but what the fuck? In case you do go and the rafts are available for renting, just be careful of how much they're charging. Also, as bad as it sounds, some of the guides target foreigners in particular in this little scam.
Be prepared; there's quite a bit of climbing—albeit via paved stairs—to get to the higher levels. Close to the top, we found tourists who had just finished canyoneering standing at the top of the falls, getting ready to dive to the bottom to cap off their journey. Here, Jarel and I decided to take a dip. At first, I didn't want to because, as per usual, waterfalls are freezing, and Kawasan was no different. But I did promise myself a lot of swimming on this trip (and I was wearing a rash guard so I wasn't completely skin-to-skin with the subzero water.
The water was blue, cool, and refreshing, but that wasn't the most entertaining part of this leg of the trip. Call me a sadist, but I enjoyed the sight of canyoneer-ers (is that a word?) freaking out because they're scared of heights but now have to take the plunge to round out their experience. I'm thinking it wasn't very helpful that the people below—strangers, mind you—were trying to help by cheering and yelling stuff along the lines of "Do it!" and "Jump!"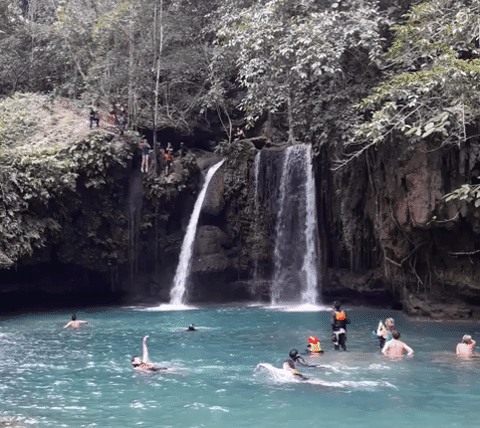 A few chickened out in the end, opting to take the long way down, some did overcome their fear and took the leap (and got applause from the audience). One short moment that did scare spectators a bit was when one of the female daredevils whose turn wasn't even up yet took a misstep on one of the (I'm guessing) moss-covered rocks, slipped, and fell down. She looked like a freaking rag doll that got knocked off a table. But she resurfaced, grinning, and everyone breathed a sigh of relief.
After having cooled ourselves off, we hiked back to Jarel's bike and rode off to our next destination: lunch.
At this point, I'd like to put this post on hold. I feel like in my usual way of narrating (long ramblings), I've taken too much of your time. But they day's not over yet; stay tuned for the second part of the tour.
All images, unless otherwise stated, belong to eatplaylog.wordpress.com. If you want to share them, please include credit and a linkback. Thanks.