If you've noticed from my latest posts so far, I've been having way too much fun making no-bake desserts. I can't help it; they're easy to make and I don't have to bother with the oven. I suppose I'll have to tinker with actual baking some time, but for now, here's another no-bake  treat you might want to try out too. (Sorry about the superfluous title; there is no other way to describe these delicious monsters.)
I have always been a fan of the combination of chocolate and peanut butter. Also, I've never made edible cookie dough before. In other words, this recipe was a long time coming. I did a quick search online and found this recipe by Jess of sweetestmenu.com. While her recipe was plenty mouthwatering, I deviated a bit just to kick things up a notch. Most notably, I added a cookie crust.
Wait a minute. Cookie dough… cookie crumbs… Holy crap, is this the Alpha and Omega of desserts?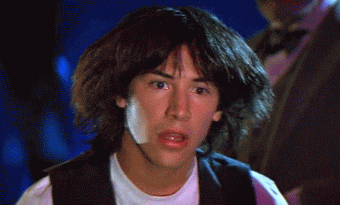 If I had topped this with more cookies, this would have been the most powerful treat in the world! OK, now that the shallow realization has subsided, back to the matter at hand.
What you need:
For crust:
30 chocolate and vanilla sandwich cookies
1/2 cup unsalted butter, melted
For cookie dough
1/2 cup (115 grams) unsalted butter, softened
1/2 cup (90 grams) brown sugar
1/4 cup (50 grams) white sugar
1 teaspoon vanilla extract
1/2 cup (125 grams) smooth peanut butter
1 and 1/2 cups (210 grams) plain flour
3 teaspoons milk
75 grams (1/2 cup) milk or dark chocolate chips
For topping
200 grams (1 and 1/3 cups) milk or dark chocolate morsels
1 tablespoon peanut butter
4 regular-size Reese's peanut butter cups, each cut into eight
What to do:
1. Crush the sandwich cookies in a bag or a food processor. Since I had neither when I made these, I decided to use a meat tenderizer and  pounded the cookies right in their packets.
2. Dump the crushed cookies into a bowl along with the butter and mix well. Transfer them to a 9×13 tray lined with parchment paper. Press firmly, making sure you get them into the sides and corners.
3. In another bowl, cream the softened butter, brown sugar, and white sugar. Follow that with the vanilla extract and peanut butter, again beating until creamy. Mix in the flour. If the resulting dough is dry, add the milk a teaspoon at a time. You may not need all of it, depending on the texture you end up with. Go ahead and add more if you have to. Then, fold in the chocolate chips.
4. Transfer the dough onto the crust, but do it in huge dollops instead of one large pile. You don't want the crust to separate and bunch in one area and leave some of the bars without a crust. Use a spatula or your fingers to flatten the dough and create an even layer.
5. Put the chocolate morsels and peanut butter in a microwaveable bowl and nuke them for about 20 seconds on high, or until the whole mixture melts. It's OK if some chocolate doesn't melt; just give the mixture a stir until they do. Pour the chocolate and peanut butter mixture on top of the cookie dough layer and spread it out evenly.
6. Chop up your peanut butter cups (or don't; it's up to you) as small as you want and sprinkle them evenly on top of the melted chocolate. Refrigerate the tray for at least 3 hours.
When the bars have set, take the tray out of the fridge (you may have to wait around 10 minutes if they stick to the tray), pull out the bars, and start cutting.
Thanks again to sweetestmenu.com for her awesome recipe.
All images, unless otherwise stated, belong to eatplaylog.wordpress.com. If you want to share them, please include credit and a linkback. Thanks.