I woke up at 5AM to get myself ready for the day's adventure (we weren't due to be picked up until 7, but I hate feeling rushed). Good thing my headache from yesterday had finally eased; it got so bad, I was seriously considering the night before to skip today's tour. Fingers crossed, today would be better than the less-than-stellar activities of yesterday.
Now, after getting dressed and with my dry bag in tow, I headed out to visit the store where I bought last night's dinner. The lady who owns the store was nice enough to boil water and lend me a mug and teaspoon for the coffee and cream packets I bought. (To explain, the place isn't a restaurant; it's a convenience store where you're supposed to buy your shit and enjoy it at home, so it was nice of her to do that.) Here, I had a light breakfast of coffee and pandesal in peace while I waited for the van to whisk us away to today's destinations.
I don't believe in divine intervention, but it was almost like someone in the universe sensed how uncomfortable I was with the Cheerful Guests Extravaganza. As the other tourists had breakfast at Don Miguel (told you), my first driver said I was going to transfer back to his van on the way back to Manila. I don't know why this had to happen, but this was a rope I was more than willing to grab onto to pull myself out of the Happy Happy Joy Joy Social Pool I was currently swimming in. Things were looking up.
From the beach where the boats were moored, we headed to Manlawi Island, a.k.a. Caramoan's widest sandbar. Well, when we got there, it  was also Caramoan's most invisible sandbar; the water was up to our knees, so we didn't really get what we went there for. I just took a few photos of the floating cottages and went back to the boat to wait for the others.
Next stop was Guinahoan Island. According to the tour guide, this island was being touted as Caramoan's version of Batanes. That perked me up; Batanes is one of the destinations I plan on visiting soon, so this better not disappoint, especially since the climb was long, rough, and fucking hot. Helpful tip: wear running shoes and bring water. You won't regret it.
The first thing I noticed upon reaching the top were the cows. Over a dozen of them, I think. Some were tethered to the ground and had to wait as a myriad of tourists had their pictures taken with them. Poor bastards couldn't even graze because they had to put up with all of this.
I have to admit, though, that the view up top was pretty cool. Definitely shared some semblance to Batanes, plus a little bit of Calaguas, too. There was a lighthouse up there, too, but it was kind of meh compared to the Cape Bojeador Lighthouse at Ilocos. When I'd had enough of the crowd, the photos, the cows, and the heat, I started the trek down, careful to avoid the smattering of shit everywhere.
We took the boat to another island where we could have our lunch, but it was so hot at the table where we were supposed to stay, I decided to go back to where the boat was anchored at sea. Good decision, I have to admit, since it was way cooler there. I ate the rest of my breakfast bread, then cooled off in the water until it was time for the next part of the tour: snorkeling.
Now this next part is bittersweet to me. It was the highlight of my trip because I am a huuuge snorkeling fan (I haven't tried scuba diving yet, but I bet I'd enjoy that even more), and at the portion of the sea they took us to do it, the water was deep, the coral bed was actually nice, and there was fish up the wazoo. Reminded me of my under-the-sea adventure in Palawan. Sweet, right? Here comes the bitter part: I had borrowed my sister's GoPro for the trip, but I accidentally left it back at the lodging. Yep. So for a completely idiotic reason this time, I once again have to do another snorkeling "Show and Tell" without the "Show." Anyway, I managed put my snorkel gear to good use; this was actually one of the most enjoyable snorkeling experiences I've had so far. I stayed in the water for as long as I could, resulting into–as I learned later on when we got back to the inn–the summer tan I'd been hoping for for a long time.
(By the way, before we went to the snorkeling spot, the guide pointed out the area where some props from Survivor had been left behind. I'm not sure why we didn't stop at that island, since I'm pretty sure no one was shooting there by then, but it would have been cool to see those game props up close.)
As we did yesterday when we got back to the main land, we stopped at Don Miguel to do the whole order-dinner-now-so-it's-ready-later deal, and I again chose to just have dinner at the inn by myself. Try as I might, I really can't bring myself to spend time with the other tourists. I'm sure they're good folks, but, well, I just need my space.
Back at the inn, I showered, took a nap, then woke up just to buy dinner and some food I can snack on while I pack up my bag before bed. All I can say is, I'm glad that was a great snorkeling experience, otherwise this trip would have been a bust. Tomorrow, we go back to Manila, and already I'm dreading that fucked-up road.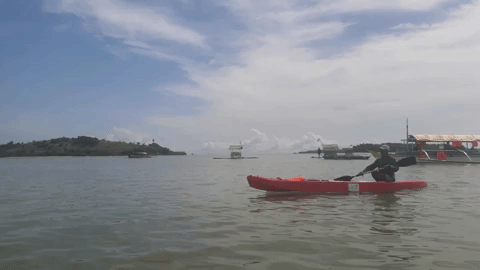 All images, unless otherwise stated, belong to eatplaylog.wordpress.com. If you want to share them, please include credit and a linkback. Thanks.