(You know what? You'll enjoy this part if you read Part 1 and Part 2 first. Trust me.)
In the morning, I got up early (around 6 a.m.) and went to the beach to have a look around. Today was our second and last day here, so I wanted to make sure I soak up the scene before we left. My sister joined me about an hour later, and eventually, everyone else made it out of bed to converge and have breakfast at the hotel's dining hall. Then, it was check out time.
We had decided the day before that we'd stop by Hagimit Falls to see if the water had cleaned up any. But one look from up high told us we needn't make the effort to go back down again: the water was as brown as ever, so we left. By the way, if the water's not crystal clear, entrance fee's discounted, but it's up to you if you're willing to swim anyway.
So another thing we wanted to check out while we were in Samal was the Monfort Bat Sanctuary, home to the largest number of fruit bats anywhere on earth, according to Guinness World Records. We forked over our Php100 entrance fee and met the tour guide. The first thing you notice as you walk up to the caves is the noise; there's nothing quite like the screeching of over two million bats. Then the smell punches you in the face; the cave is, after all, a big guano party so you'll just have to embrace it. All things considered, it's actually pretty cool watching those bats fly around (they're in this underground cave, and you can see them through five large holes in the ground.) Don't worry; they stay within the cave during the day, so you don't have to  worry about them aiming for your head as you take photos.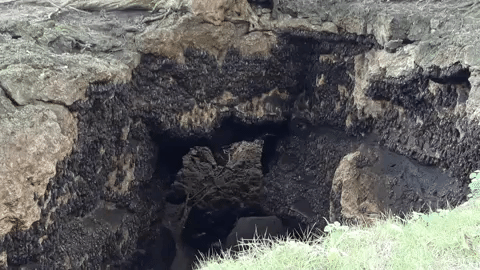 Afterwards, we went on to Babak Ferry Terminal to get back to Davao City (but not before stopping at Rose Bakeshop for more of that Spanish bread) in time to check into our third and final accommodation, Hotel Tropika. Tempting as it was to take a dip in the pool, our hunger was even stronger, so after checking in, we just dropped off our stuff and set out again.
Lunch was at Shakey's in Abreeza Mall, then we went to see Crocodile Farm out of ciriosity (and to sample their popular croc sisig). At the last minute, we decided that the Php250 entrance fee wasn't really worth it and settled for walking around  park instead, where restaurants and souvenir shops are lined up. Shortly after, we went back to the hotel for a swim before heading back out for dinner at Penong's, another bar and grill popular in Davao.
Caffeine addicts that we were, we couldn't end the night without coffee, so we stopped at a Starbucks before heading back to the hotel. But as much as I wanted to keep watching TV, I was practically falling asleep into my coffee, so we said goodnight and headed to our respective rooms. Well, we're going to need rest anyway if we're going to make our last day count.
All images, unless otherwise stated, belong to eatplaylog.wordpress.com. If you want to share them, please include credit and a linkback. Thanks.